---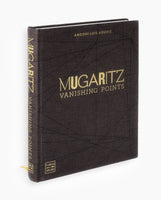 Mugaritz - Vanishing Points - Signed by Andoni
To open the mind, not just the mouth.
More than a cookbook, this book is an intimate and daring story about how Mugaritz experiences cooking, using creativity as the most suitable ingredient to inspire, surprise and provoke diners all over the world. For Andoni Luis Aduriz, food is the best pretext to cross borders and explore territories while transforming ideas into edible expressions. With this publication, Mugaritz endeavour on dismantle paradigms, accelerating the present of gastronomy and, above all, projecting ramps into tomorrow, while keeping one same enthusiasm and illusion intact, the one of watching its audience walk on a tightrope without the fear of falling, enjoying outcomes that are as unusual as improbable.
TO EAT YOUR BRAIN OUT
Confessions by Andoni Luis Aduriz and the Mugaritz's team to open the mind and not just the mouth.
Inspiring reflections on the present and the future of one of the most influential restaurants of our time.
30 creative concepts of Mugaritz
50 ground breaking recipes.
Glossary of non-culinary terms to meet culinary challenges.
Notes to whet the appetite through time, luxury, pleasure, vice, chance, transformation, life and even death.... in the kitchen.
SPECIFICATIONS
• Documentary photography: Per-Anders Jörgensen
• Gastronomic photography: José Luis López de Zubiria
• Art direction and design: Lotta Jörgensen - Fool Agency
• Illustrations: Javier Vergara
• Texts: Sasha Correa y Raúl Nagore
• Preface: Alex Atala
• Especial collaboration: Harkaitz Cano
• Measurements: 21,6 x 27,5 cm.
• 294 pages